Painting a Mural
During the 2001 - 2002 school year when I taught at my previous school, we had a large wall in our media center on which we painted a mural. This was a year-long project.
The first step was to apply a solid ground color. In this case, we used red.
The next step was to transfer geometric compositional lines from a scale drawing onto the wall.
This involved proportion and careful measurement.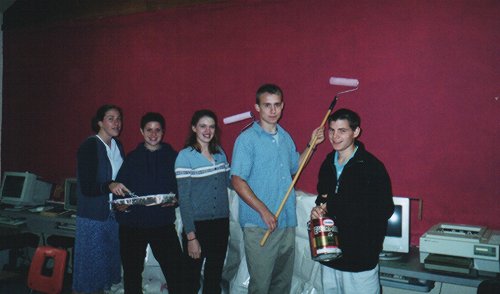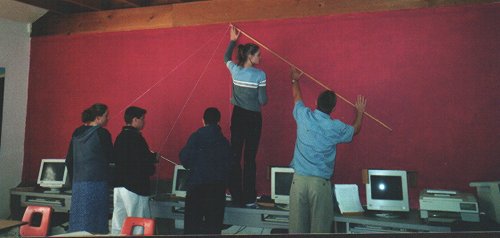 Drawing and painting whenever we have a free moment.

The image above is what the mural looked like January 24, 2002.


This is what it looked like April 8, 2002.



This is what it looked like May 1, 2002.


Here it is finished!.
It was a sensational project for an upper level math class and has brought publicity to our school.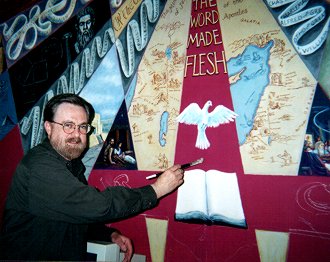 This is a photo of my inspirational mural, "In the Shadow of the Cross."
A Dynamic, Pictorial Overview of the Bible's Central Theme
For those who would like information about this mural, please click the button below to receive a FREE copy of a 10-page illustrated description of this work of art (complete with all the Bible verses incorporated into the design)
Note: If this is the sort of thing that interests you, then by all means, let's stay in touch.

CLICK to Visit my MATH ADVENTURES Store.
THERE ARE LOTS OF CREATIVE LESSON PLANS TO DOWNLOAD!

Intro | Mission | Integer Jim | Algebra Journal Project | Map Project | Mural Project | Student Web Pages | Helps | Incentives | Email


Copyright, Jim Bennett © Copyright 2001-